Snowfall & Trail Conditions
Snowmobile Trail Conditions
• No grooming last night due to warm temps and low traffic. Groomers are ready to go when the snow arrives.
• Spring riding conditions are present across the system. Expect more water holes, bare spots, etc. to open up today with the warmer temps. For real-time trail grooming updates, download the Groomer Tracker App! Sign up for the Keweenaw trail system with a portion of the fees shared to support our local trail grooming club!
Snowmobile Trail Closures
• Trail 124 Closed: Effective the evening of 3/7/2023, Trail 124 is closed for logging. The warm weather the last few days has impacted the crews that were logging across this trail. They now need to log up and along the trail due to warm weather. We appreciate the landowner and logging companies support this year to work with us to minimize trail disruptions. Please respect the closure for the remainder of the season. The trail will be taped and signed as closed at the intersection of Trail 122/124 and at the intersection of Trail 3/124, formerly known as Vansville.
Cross Country Skiing & Fat Tire Trail Updates
• Michigan Tech – MTU trails are all groomed and tracked. Conditions are excellent! We will not be grooming tomorrow Thursday the 16th and will be in on Friday morning the 17th attempting to keep up with the predicted 12 inches that will fall tomorrow through Friday morning. (3/15/23)
• Swedetown – We will be suspending grooming for tomorrow and possibly into Friday. With rain coming tonight and tomorrow we don't want to do anymore damage to trails. (3/15/23)
• Keweenaw Mountain Lodge – The trails stayed in good shape over night. The tracks are firm this morning. So we are going to keep them setup as they are, with no grooming today (unless the conditions change). Enjoy the winter outdoor activities. (3/14/23)
• Chassell Trails - The Chassell trail is closed today. The weather in the next 48 hours or so will determine whether we will be able to reopen or not. Stay tuned. (3/16/23)
• Calumet Dam Trails - All trails were comb dragged tonight. Let them get below freezing for a couple hours before using (snowshoes excepted.) I will be out of town this weekend so clean up after the storm will commence a week from now. Use them tomorrow if you can. Anyone want to help starting next Wednesday let me know. (3/14/23)
• Maasto Hiihto & Churning Rapids – All trails have tracks. (3/15/23)
• Churning Rapids Snow Bike - Trails groomed Monday night with the Vplow to preserve the firm base. Good riding Tuesday. (3/14/23)
• Boundary Road Trails – We skied the trails and off-trail in the glorious warm sun and found conditions excellent! Sorry no fresh grooming, the tow machine is still in the shop with no estimate when it'll be out. Parking lot was still firm enough for safe parking. Get your pups out for a fun romp! (2/8/23)
• Eagle Harbor – Groomed and tracked all. Usual thin spots are still a problem. C'mon St. Paddys storm! (3/14/23)
• Copper Harbor - Spring conditions today, come out and enjoy the trails! (3/11/23)
• Chassell Snowshoe Trails - S. end of Green is broken open as are the others listed above. Yellow and Pink loops still need to be broken open, but they should be mostly discernable with the open wind blown fields crossings of the Pink having rod markers to guide you. (3/13/23)
• Twin Lakes State Park - Ski and snowshoe trails were groomed as of 2PM yesterday. (3/8/23)
Downhill Skiing
• Mont Ripley –Starting March 6: Mon-Fri Closed, Friday 4-8PM, Sat-Sun 10-5PM. Projected closing date March 26th.
• Mount Bohemia – Open for the season. Check https://www.mtbohemia.com/ for hours, updates, and special events.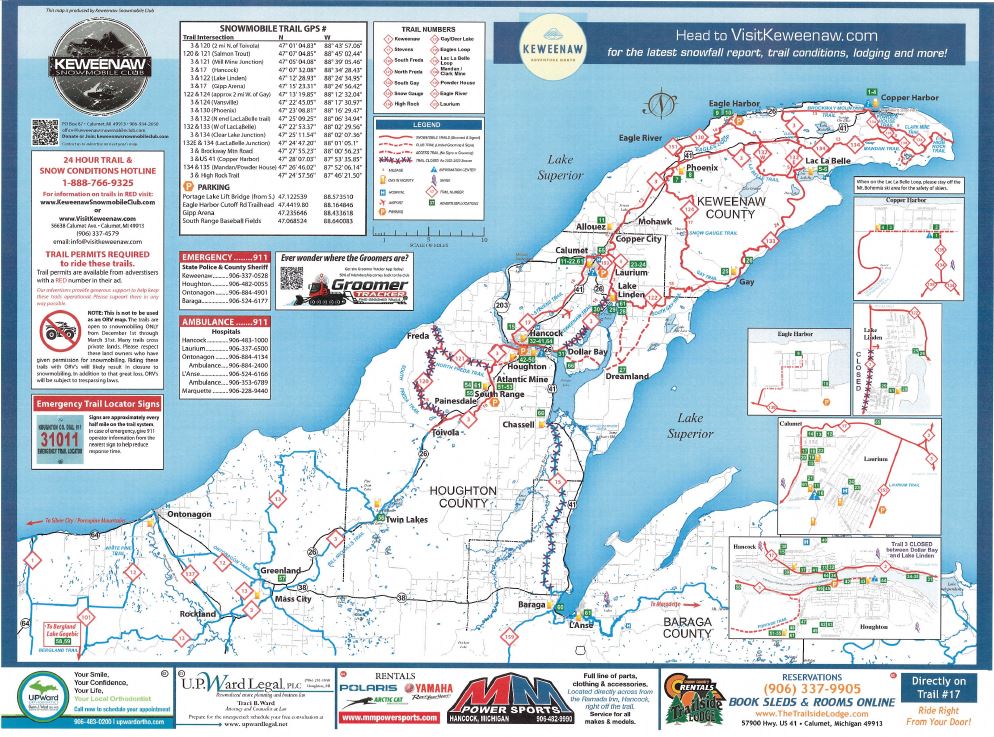 ATV ESCORT TIMES
Officers provide ATV escorts seven days a week, provided they are available, at the following times:
9:15 a.m.
2:15 p.m.
7:15 p.m.
ATV's and side-by-sides only. Sorry, no jeeps, pickups, full-size vehicles, converted 4X4s or dirt bikes. Minimum of 2 machines to be escorted.