Snowfall & Trail Conditions
Snowmobile Trail Conditions
• Trails 3 from Mohawk to Clear Lake 132, 134 (minus High Rock), and 135 were all groomed.
• Be mindful of spring riding conditions, including thin spots and water holes. The trail through Houghton/Hancock is getting especially thin and bare.
• Due to land owner permits, we are not extending the season. Gates on private land will be closed on April 1st.
For real-time trail grooming updates, download the Groomer Tracker App! Sign up for the Keweenaw trail system with a portion of the fees shared to support our local trail grooming club!
Snowmobile Trail Closures
• Trail 124 Closed: Effective the evening of 3/7/2023, Trail 124 is closed for logging. The warm weather the last few days has impacted the crews that were logging across this trail. They now need to log up and along the trail due to warm weather. We appreciate the landowner and logging companies support this year to work with us to minimize trail disruptions. Please respect the closure for the remainder of the season. The trail will be taped and signed as closed at the intersection of Trail 122/124 and at the intersection of Trail 3/124, formerly known as Vansville.
Cross Country Skiing & Fat Tire Trail Updates
• Michigan Tech – Your MTU Trail System is 100% groomed and tracked. Warm temperatures will ensure the trails will not set up super hard. Expect to find very good and excellent conditions today. (3/31/23)
• Calumet Dam Trails - All trails groomed tonight. Ride 'em before the storm hits. Anyone have a Honda 1332 snowblower they want to donate to a good cause? (3/30/23)
• Swedetown – All the trails have been tiller groomed and tracked. Conditions are excellent and will be awesome to ski. Get out and enjoy. (3/30/23)
• Swedetown Snow Bike - Trail groomed today, conditions are good, Firm base with a little fresh snow on top. (3/29/23)
• Keweenaw Mountain Lodge – It is sunny this morning, and the winds have calmed down. The trails and tracks are still in good shape from grooming yesterday. So we will not be grooming this morning, as we will keep the tracks firm for skiing today. Enjoy the winter outdoor activities. (3/30/23)
• Chassell Trails - We will no longer be grooming the trail for the22/23 winter season. If anyone wishes to snowshoe or snowbike the trail, they are welcome to do so. Thanks for your support this past winter. Jim (3/30/23)
• Maasto Hiihto & Churning Rapids – All dragged and tracked. (3/29/23)
• Churning Rapids Snow Bike - Trails groomed Wednesday night. Overnight freeze should make for great riding on Thursday. (3/22/23) • Eagle Harbor – Groomed and tracked all. Usual thin spots are still a problem. C'mon St. Paddys storm! (3/14/23)
• Chassell Snowshoe Trails - S. end of Green is broken open as are the others listed above. Yellow and Pink loops still need to be broken open, but they should be mostly discernable with the open windblown fields crossings of the Pink having rod markers to guide you. (3/13/23)
• Twin Lakes State Park - The Twin Lakes Ski and Snowshoe trails were both groomed today and are ready for action. (3/23/23)
Downhill Skiing
• Mont Ripley – Closed for the season.
• Mount Bohemia – Open for the season. Check www.mtbohemia.com for hours, updates, and special events.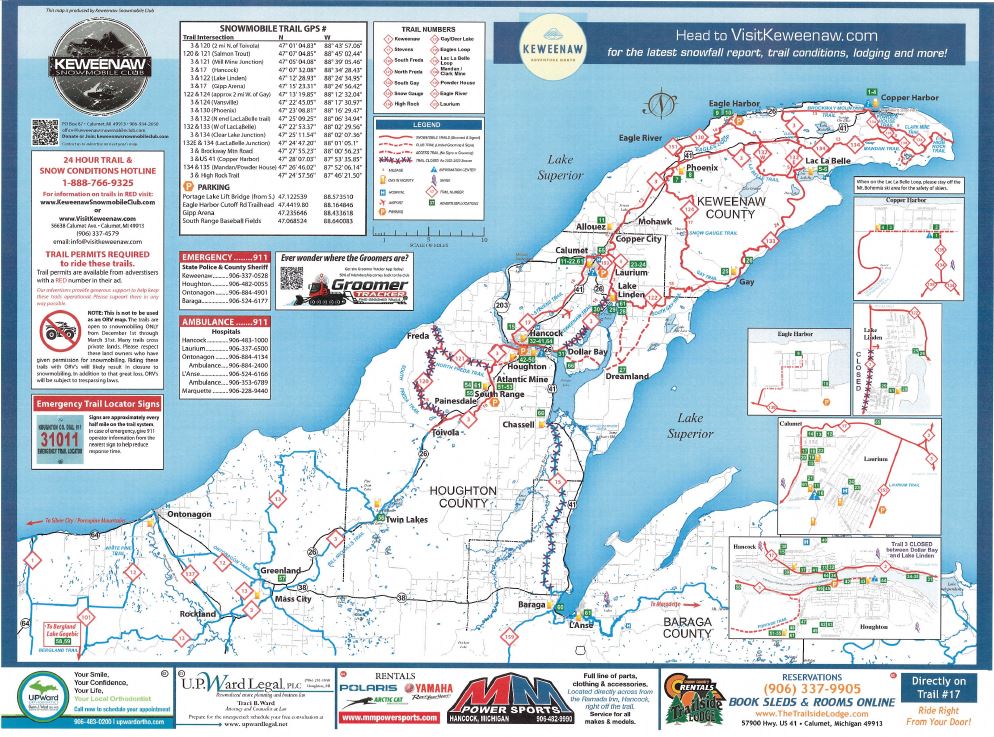 ATV ESCORT TIMES
Officers provide ATV escorts seven days a week, provided they are available, at the following times:
9:15 a.m.
2:15 p.m.
7:15 p.m.
ATV's and side-by-sides only. Sorry, no jeeps, pickups, full-size vehicles, converted 4X4s or dirt bikes. Minimum of 2 machines to be escorted.