Snowfall & Trail Conditions
Snowmobile Trail Conditions
• Trails 3/17 from Toivola to Copper Harbor, 124, 130, and 134 were all groomed.
• Expect trails to deteriorate today with the warm temps and sunshine. Grooming will be attempted tonight if the temps cool below freezing.
For real-time trail grooming updates, download the Groomer Tracker App! Sign up for the Keweenaw trail system with a portion of the fees shared to support our local trail grooming club!
Snowmobile Trail Closures
• Trail 122 – Reroute has been approved. Trail 122 is closed due to logging on this trail through January. More information and updates to come. | The Valley Sno Drifters Traill 122 to Dreamland Restaurant & Bar is open. From Lake Linden to Sawmill Road is open. Trail 122 is NOT OPEN beyond this point. Any use further north of 122 toward Gay will result in loss of trail.
Cross Country Skiing & Fat Tire Trail Updates
• Michigan Tech – Conditions are excellent. Temperatures will fall throughout the day as the winds pick up. (2/7/23)
• Churning Rapids Snow Bike – Trails groomed Tuesday morning. It is currently above freezing, but temperatures are supposed to drop throughout the day Tuesday, so it would be best to wait until later afternoon or evening to ride. (2/7/23)
• Swedetown – All trails have been tiller groomed and tracked. Conditions are excellent, get out and enjoy. (2/7/23)
• Swedetown Snow Bike - loops 1-5 groomed, conditions are VERY soft. (2/7/23) • Keweenaw Mountain Lodge – We groomed the trails this morning. They were wind-blown from last night, and being able to groom them this morning freshened them up. They are in good shape this morning. We will watch how the wind and warmer temperatures play out throughout the day to determine if we go out and groom again during the day. (2/7/23)
• Copper Harbor - Wet snow coupled with major drifting is more than what our equipment is capable. It will take a couple days to whip it back into shape. It is packed and is great for snowshoeing. (2/7/23)
• Chassell Trails- Grooming completed at 6:15. Conditions remain excellent. (2/3/23) • Chassell Snowshoe Trails - We've groomed four times in the last two days, but the snow keeps coming. More snow in the forecast. Hopefully we'll have it in riding shape for the weekend. (2/1/23)
• Calumet Dam Trails - Got around the Lake tonight, good for snow shoes, skiis, probably too soft for fat bikes. Have a repair project at home to do tomorrow so grooming will commence again Sunday afternoon. Sorry. (2/4/23)
• Maasto Hiihto & Churning Rapids - Grooming is suspended. All of our machines are down. We will resume grooming as soon as possible. (2/4/23) • Boundary Road Trails - Most trails were rolled and the parking lot plowed, thanks to super volunteer Adam Rajala! The machine is back in the shop so grooming is again suspended. Parking lot plowing volunteers would be appreciated. (2/1/23)
• Eagle Harbor - Groomed and Tracked everything Saturday and Sunday, great conditions with two thin spots. (2/5/23)
Downhill Skiing
• Mont Ripley – Open for the season. | Mon-Thur: 3PM-9PM | Fri: 1PM-9PM | Sat-Sun: 10AM-5PM | Tubing Park open 12-5PM Sat/Sun, and will have extended hours 2/10/23 for Winter Carnival from 4-8PM.
• Mount Bohemia – Open for the season. Bohemia is adding Thursday Night Skiing presented by Lume starting January 26 and running through March 2nd. | Lantern-lit snowshoe hikes Saturdays from 5PM-8PM | Guided snowshoe hikes and pancake breakfast on Sunday Mornings. $30 includes snowshoes, guide, and pancakes at the main yurt.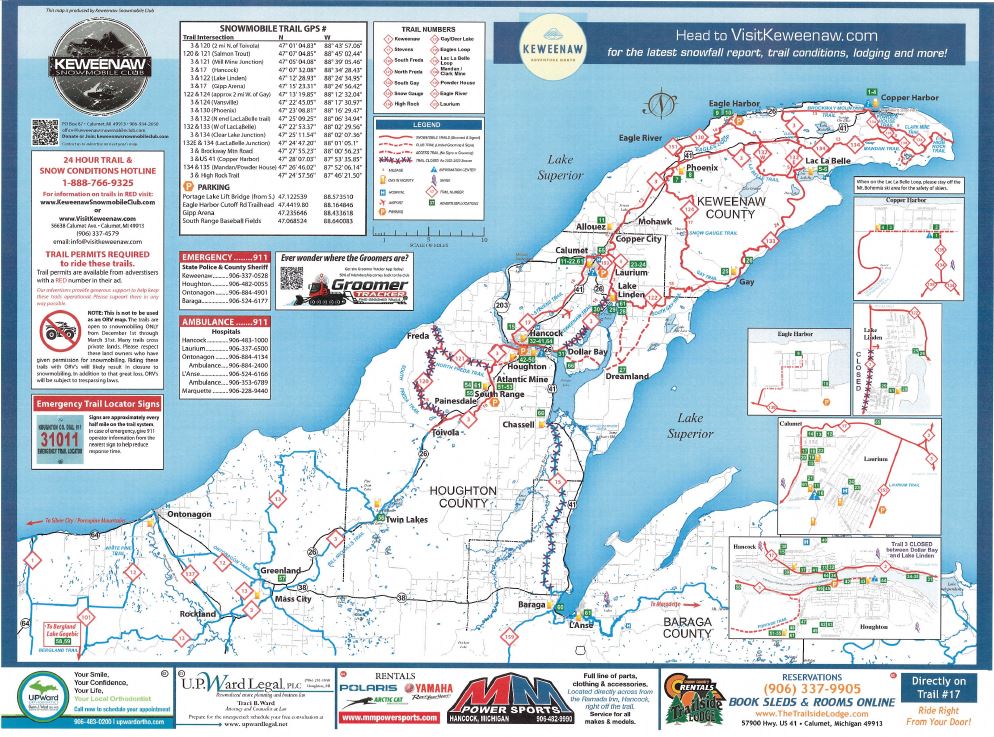 ATV ESCORT TIMES
Officers provide ATV escorts seven days a week, provided they are available, at the following times:
9:15 a.m.
2:15 p.m.
7:15 p.m.
ATV's and side-by-sides only. Sorry, no jeeps, pickups, full-size vehicles, converted 4X4s or dirt bikes. Minimum of 2 machines to be escorted.